Uber Vehicle Inspection – The 19 Point Checklist You Need to Know [2019]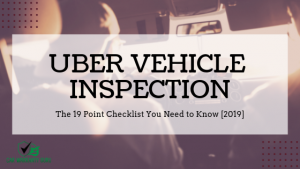 Ride-sharing services such as Uber are alternatives to taxis and income sources for individuals. If you see Uber as an opportunity to make money, your vehicle will have to meet certain requirements.
Many of these standards are set forth in a 19-point Uber vehicle inspection form. The inspection of your vehicle and the other requirements imposed by Uber are intended to reduce the risk of harm to your passengers. Here is our comprehensive guide to the inspection requirements and other standards for Uber vehicles and drivers.
Eligibility to Drive for Uber
Obviously, you must have a valid, current driver's license to drive for Uber.
Uber also imposes driving experience requirements. You must be at least 21 years old. If you have yet to reach age 23, you must have at least three years of driving experience. Those who are at least age 23 years old need only one year of driving experience. Note that this is driving experience in the United States. You cannot count experience outside the United States.
Certain violations on your criminal or driving record disqualify you to varying degrees. Generally, your driving record may have no more than three incidents in the three years prior to the time you apply. A violation for speeding more than 20 miles per hour over the speed limit in the last three years will disqualify you. Any drunk driving or reckless driving offense at any time will bar you permanently from driving for Uber except in California. There, only drunk driving convictions within the last ten years that count against you.
Also, Uber does not approve those with a felony, violent crime or sexual offense conviction within the last seven years. Uber might accept certain nonviolent felons.
To verify your driving and criminal record, Uber will have you consent to a check of motor vehicle, sex offender registries and court records. Checkr, Inc. conducts background checks for Uber.
The Inspection
When Must a Vehicle Be Inspected?
Whether you must undergo an Uber car inspection when you apply depends on the state in which you will drive the vehicle. For example, in North Carolina, you only need the initial inspection if you have an out-of-state vehicle. Cars with a current North Carolina registration can forego the initial uber vehicle inspection. Uber provides online information about whether you need the 19-point inspection before you start driving.
Uber does require that your vehicle have an inspection at least once per year. Note that this may be more frequent than the requirements of your state for vehicle inspections in general.
What Items are Inspected?
When you apply to drive for Uber, you will also download and Uber vehicle inspection form. This form list the items involved in the 19-point inspection that your vehicle must pass.
These 19 points are as follows:
Headlights
Tail lights
Turn indicator, or signal, lights.
Stop lights
The thickness of the brake pads and shoes
Emergency or parking brakes
Steering mechanism and the associated ball joints, tie rods, the rack and pinion, and the bushings
Windshields

. Uber does not permit vehicles to have cracks in the windshield.

Safety belts for the driver and each passenger
Rear window and other glass, such as the door glass

. Again, these should not have any cracks.

Windshield wipers
Front seat adjustment
Doors

. The doors must be able to open, close and lock.

Horn
Speedometer
Bumpers
Muffler and exhaust system
Tires

. The tire inspection includes the tread depth. Generally, if you stick a dime into the tread and can still see it, your tires will fail the tread test.

The interior and exterior rear-view mirrors
What Happens If the Car Fails Inspection?
If you fail the Uber vehicle inspection requirements, you need to have the defects fixed.
Many fixes do not require much work or cost. These include replacement of windshield wipers, headlights and brake lights. Other problems, such as faulty brakes and worn or bald tires, likely will necessitate the services of a car mechanic or technician.
If you use a mechanic for any repairs, take note if your vehicle is under a manufacturer's or other warranty. Consider having a dealership of the manufacturer fix problems revealed by an inspection that may be covered by the vehicle warranty. Also, you might want to use parts from the manufacturer. For older vehicles outside of the warranty, you might find discount parts retailers online and elsewhere to give you a cost-effective replacement or remedy.
Who Inspects Vehicles for Uber?
Where you live or drive will determine the available locations to get an Uber vehicle inspection. In larger cities, you have available "Greenlight Hubs" that will provide the inspection. In certain cities, Uber has deals with specific auto care establishments to inspect the vehicles. Inspections at the hubs cost you nothing.
Should you employ your own mechanic, you will have to foot that bill. The mechanic will set that fee, but it can range between $20.00 and $30.00. If you're going somewhere other than the Greenlight Hub, make sure the auto care center is certified or otherwise permitted by your state to perform vehicle inspections. Auto mechanics who either sell tires or parts or do not specifically perform uber car inspections may fail you as a pretense for selling you items and services you might actually not need.
What Other Vehicles Does Uber Not Accept?
The 19-point vehicle inspection Uber requires addresses your vehicle's safety. Uber also imposes requirements on the type a vehicle and its appearance. When you apply, you must upload or otherwise provide to Uber a photograph of the vehicle you plan to use.
Wrong Model and Body Style
Your vehicle must contain 4 doors and have the capacity for transporting at least four passengers. Uber declines vehicles older than 15 model years, trucks and vans.
Poor Appearance
You cannot drive for Uber a vehicle which has been salvaged, reconstructed, or rebuilt. The vehicle registration, which Uber requires you to upload, will indicate if your vehicle is salvaged. The photograph of the vehicle also shows it you have aesthetic problems, such as major dents and rust.
Uber also prohibits you from carrying any advertising on the vehicle. This includes indicating on the car that you are a taxi.
Generally No Rentals
You may not use a rental car to drive for Uber unless you go through an Uber-approved rental company.